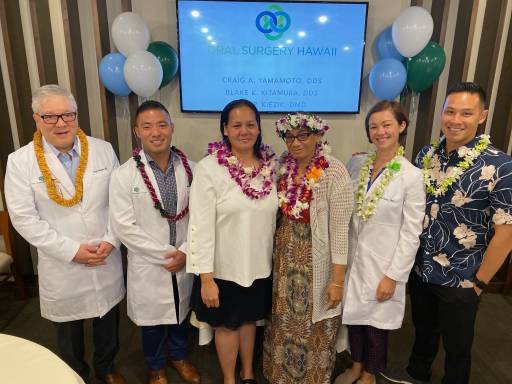 In November 2019, Drs. Craig Yamamoto, Blake Kitamura, and Eva Kiezik of Oral Surgery Hawaii were thrilled to announce the two final recipients for their third annual Second Chance program. The two deserving women, Taulalo and Kauikeolani, will receive the gift of a brand-new smile this holiday season and a second chance to reclaim their lives. Taulalo, 45, of Waianae and Kauikeolani, 44, of Kaneohe were selected out of more than 250 local applicants to receive the life-changing smile makeover. The charitable Second Chance program is designed to provide two deserving individuals the opportunity to apply and receive a full-arch restoration treatment, a $50,000 procedure, completely free of charge.
Taulalo struggled with her oral health for years and unfortunately could not afford visits to the dentist, as she saved all her money to make sure her sons had regular visits. Taulalo was working as a program assistant with a company for 10 years until she lost her job in May 2019. Losing her job was extremely hard on her, and she feels her poor dental health is a key reason why she has been unable to land a new job opportunity. Taulalo's son is graduating in 2020, and she shared that she wanted to document this important moment in his life and be able to smile in photos with him.
Kauikeolani began losing her teeth after her front tooth was accidentally knocked out during back surgery; soon after, her other teeth slowly began falling out for reasons she is unaware of. In 2015, she lost a family member to suicide and hasn't felt whole since. Kauikeolani is currently living on disability and is constantly ashamed and embarrassed by her missing teeth, which has caused her to feel extremely anxious and depressed. Kauikeolani is an extremely strong woman who is not only living with missing teeth and dental pain, but she has overcome grief, spousal abuse, and illnesses. When asked how the surgery would change her life, she said, "A full dental restoration would give me the confidence to help others by becoming a patient advocate despite being disabled."
"Both Taulalo and Kauikeolani's stories touched our hearts, and we couldn't imagine picking one or the other," Dr. Blake Kitamura said. "We hope that this life-changing procedure provides them with the confidence they need to pursue their dreams."
Oral Surgery Hawaii will be collaborating with restorative partners Dr. Chris Young of Aloha Family Dentistry Hawaii and Dr. David Chen, who will assist in the procedure by creating a custom-designed prosthesis for Taulalo and Kauikeolani. The dental implant-supported full-arch restoration will be placed by our oral surgeons for a natural-looking and functional prosthesis. Oral Surgery Hawaii is also partnering with dental laboratory ACL Hawaii INC for the procedure.
Follow their treatment journey on Facebook.